Our Dental Assistants in Grand Blanc
Committed to Your Total Dental Health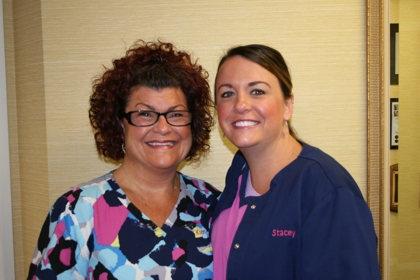 Kim – Dental Assistant
Look no further for an excellent dental experience! I am Kim and I recently joined the team at Werschky & Lewis Family Dentistry. My Grand Blanc dental assistant career consists of 21 years of experience, which is hard to believe! As an assistant, I enjoy assisting patients in understanding their dental care needs by listening to them and answering all of their questions. The favorite part of my job is developing these relationships through education and care. I think there is nothing better than helping our patients smile with confidence, with no sadness, embarrassment, or pain.
Our team strives for a comfortable and yes, even enjoyable experience! We are passionate about spending time with every patient to ensure their dental needs and goals are achieved.
Outside the office, I have an amazing husband and two sons, Matthew and Parker J. We love spending time with family and friends. This consumes most of our free time!
Stacey – Dental Assistant
Hi, I'm Stacey and I am also a chairside assistant and I work primarily with Dr. Jay. Dr. Werschky was my dentist as a child and then he asked me to join his dental team about 16 years ago, and he trained me to be his chairside assistant. We work together to make sure your treatment is a pleasurable experience.
Don't put your dental health off one more day! Call (810) 671-5616 today to work with our incredible team.