Jori W. Lewis, DDS
Top-Quality Grand Blanc Dental Care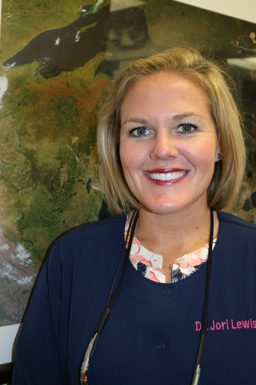 Dr. Jori Lewis is a Flint, MI, native and is Dr. Jay's youngest daughter. A graduate of Carman Ainsworth High School, (1999), Dr. Lewis continued her education at the University of Michigan-Ann Arbor, where she earned both her Bachelor of Arts (2003) and D.D.S. degree (2007).
Dr. Lewis is a strong believer of staying up-to-date on the latest advancements and dental technology and, as such, is a certified provider in laser dentistry and Six Month Smiles- cosmetic orthodontics. Her membership in professional organizations such as the American Dental Association and the Michigan Dental Association allows Dr. Jori to continue learning, training and growing in the field of dentistry. Dr. Lewis is also involved at the local level of organized dentistry currently serving as President-Elect of the Genesee District Dental Society.
Dr. Lewis has been with our team since 2007. She, her husband Andy, and their two sons reside in Clarkston, MI.
Our offices can be reached at (810) 671-5616. Call today to schedule your first appointment with our Grand Blanc dentist!