Jori W. Lewis, DDS
Top-Quality Grand Blanc Dental Care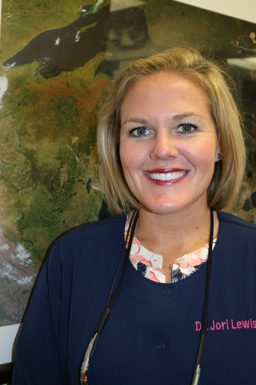 Dr. Jori Lewis is a Flint, MI, native and is Dr. Jay's youngest daughter. A graduate of Carman Ainsworth High School, (1999), Dr. Lewis continued her education at the University of Michigan-Ann Arbor, where she earned both her Bachelor of Arts (2003) and D.D.S. degree (2007). Dr. Lewis served as Genesee District Dental Society President from 2018-19
Dr. Lewis is a strong believer of staying up-to-date on the latest advancements and dental technology and, as such, is a certified provider in laser dentistry and Invisalign and Healthy Start- cosmetic orthodontics. Her membership in professional organizations such as the American Dental Association and the Michigan Dental Association allows Dr. Jori to continue learning, training and growing in the field of dentistry. Dr. Lewis is also involved at the local level of organized dentistry currently serving as President-Elect of the Genesee District Dental Society.
Dr. Lewis has been with our team since 2007. She, her husband Andy, and their two sons reside in Clarkston, MI.
Recently Dr. Lewis has received the MDA Public Service Award! Dr. Jori exemplifies the qualities and traits of a dedicated dental professional. Perhaps that's no surprise, as she comes from a dental family. She has followed her heart and has gone above and beyond to conceive, develop and implement a very special health-related program for the under-served children in Genesee County, the Genesee District Diaper Drive, for which Genesee District Dental Society received the coveted ADA golden Apple Award.
Dr. Lewis services as co-chair of the Genesee District Dental Society health fairs, participates in the MI-DOOR program, Give Kids a Smile, the Donated Dental Services program, and serves as a Head Start Dental Care volunteer dentist. This 2018 MDA Public Service Award recognized her outstanding commitment and dedication to promote oral health to the greater Flint community.
Our offices can be reached at (810) 671-5616. Call today to schedule your first appointment with our Grand Blanc dentist!