Dear friends and patients of Werschky and Lewis Family Dentistry,
We miss you and are anxiously awaiting the opportunity to see you again. In the meantime, please take a look at this video we made for you.
---
It been a long and difficult two and a half months, but we are ready and prepared to return to work and see everyone who we have missed so much. We are happy to announce that our office will be reopening on June 1st as the Governor's restrictions on dentistry will be lifted as of May 29th. We hope this letter finds everyone healthy, happy and ready to ease back into our new normal lifestyles. Much has changed since we saw you last. We are still coming to grips with the Covid 19 pandemic and events triggered by it. It's safe to say everyone on the Earth has been impacted by it in one way or another. We want to update you on our office, it's measured re-opening and the steps we have taken to ensure you we have done everything possible to keep you, our patients, and our team safe and healthy.
While our office has been closed, we have been closely following shifting regional, state and national guidelines that affect the practice of dentistry. We are prepared to resume scheduling general appointments. We will be following rigorous scheduling protocols and office measures to ensure the safety and well-being of our patients and staff.
We ask for your patience and understanding in the times ahead. Unfortunately, we had to cancel hundreds of appointments, and we have a strong desire to get everyone back on track as soon as possible. We will eventually, but it will take a while. We will not be as efficient as you were used to. There will be very obvious changes in our protocols, processes and procedures. These have been well thought-out and reviewed by the doctors and entire staff.
As we begin to reschedule patients we will be triaging and prioritizing those in need of urgent care first. We will then address those patients who were cancelled to determine who is most in need of treatment. As you may imagine we had many treatments started and are still waiting to be completed.
Please make note of the following protocol and procedural changes we will be following:
APPOINTMENTS:
There will be a reduced number of treatment appointments per day. Significantly reduced from the past. This may impact your scheduling where we used to appoint entire families for care on the same time frame. Now we will be allowing additional time for mandated disinfection procedures and establish down time between use of treatment operatories.
Please wait for our office to call you to reschedule your appointment. We have a very accurate list of those appointments we had to cancel and that is our reference.
We will continue to see emergencies as defined by pain, bleeding and/or swelling.
VISITS:
For pre-screening, our staff will communicate with you before your appointment to ask some questions. You will be asked those same questions when you arrive in the parking lot.
When you arrive please remain in your vehicle and call or text the office for further instructions. A staff member will let you know how to enter the building and our office so we have minimal exposure to other patients and can accommodate direct seating in your thoroughly cleaned treatment room. For those who may not have a cell phone please let us know at the time you schedule your appointment so we are aware of this ahead of time.
Only the patient who is being treated will be permitted entry unless it involves a small child requiring an adult or elderly or other patients requiring assistance. Only one parent or caregiver may accompany the patient. Absolutely no other family members or friends will be allowed inside the office. In most cases we would anticipate only the patient will be allowed in the treatment room.
Your temperature will be taken by the staff upon arrival using a touchless thermometer. You will also notice a plexiglass barrier between staff and patients. Please understand that we are complying with guidelines in place to avoid risk of transmission. If your temperature is over 100 degrees F, you will be asked to leave and not return for the specified 14-day self-quarantine.
*A simple questionnaire assessing contacts, travel, and well-being will be asked of all patients upon booking an appointment as well as upon your arrival to the office. Any question indicating exposure to someone with Covid 19 or having any signs or symptoms of the same will be asked to leave and not return for the specified 14-day self-quarantine requirement.
Although we will try to seat you immediately upon arrival please maintain the 6 ft social distancing while in the office and seated in the treatment room.
We will require you to sanitize your hands when you enter the office. We have you covered with the sanitizer.
We are moving toward a chartless office including virtual waiting room (check-in) and virtual checkout (payment and next appointment). Please bear with us as we develop and implement these new processes.
You will notice that we no longer offer magazines and children's toys/books, since these items are difficult to clean and disinfect. We will have deep cleaned our office and removed any unnecessary objects before we reopen.
*Regarding air filtration, we installed Surgically Clean Air filtration several years ago and feel confident with this technology. We are proud to say that we were perhaps the first to implement this in our community.
Please bring your own mask and wear it into your appointment. State guidelines for social distancing and wearing of masks in businesses continues to be in effect so please abide by the rules and wear the mask you have been using. If you don't have one, we will provide one but be mindful that personal protective supplies are dangerously low and costly.
SOCIAL:
You know we love you and have been accustomed to chat with you at your appointment. Please understand that social conversations will be significantly reduced to allow for social distancing, staying on time and allowing time to disinfect chairs, treatment rooms and instruments.
OUR TEAM:
We will be recording the temperature of all staff members (including doctors) daily upon arrival to work and following lunch. If any staff member registers 100 degrees F or higher, they will be sent home and follow the same protocols as listed previously. Every team member will answer the same questionnaire that all patients are required to answer and will do so daily. If any question disqualifies an employee from work, they will be sent home to follow the same procedures required of patients.
IN GENERAL:
You will notice that numerous changes have been made to ensure the health and well-being of our patients and team members.
We are so grateful for every one of our patients, and this time away has only served to reinforce those feelings. This is why we are taking all these precautions so SERIOUSLY. You are the life of our practice and to do anything less would be unconscionable. In return we ask for your trust, patience and understanding.
Please note that the above systems and protocols may change based on future mandates and the return to normality. We will continue to evaluate things in a real-time setting. Until then rest assured we are in compliance and as prepared as ever to take care of your dental health.
If you have any questions, please call the office at 810-695-7120.
Until then stay well and "Be the reason someone smiles today"!!
The entire Werschky, Lewis, and Slatton Dental team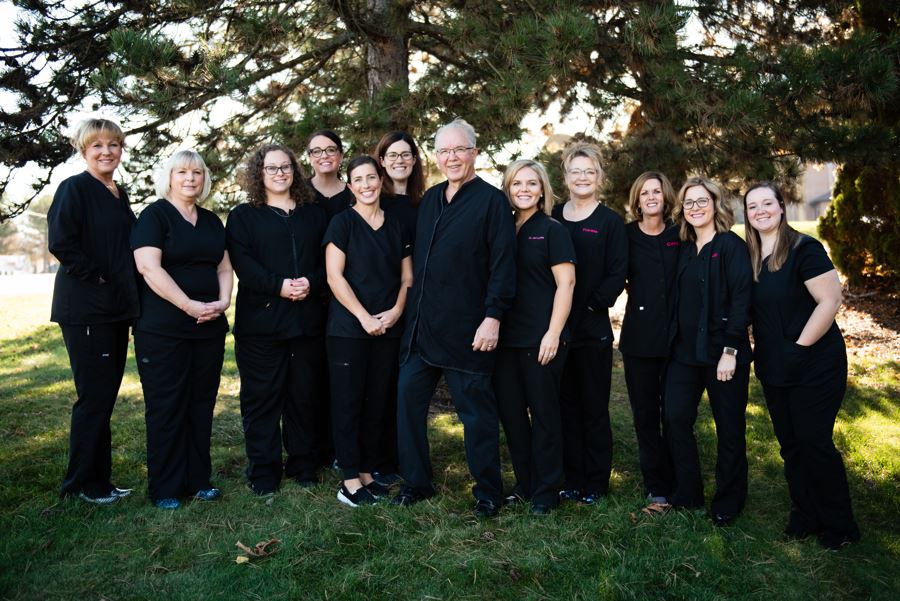 Treating Patients of All Ages
Real Reviews. From Real Patients.
"Truly Professional and 1st class all the way."

"Professional and excels at what they do."

"Another great job."

"I had Dr. Jori – she was great!"

"I can't think of a better place to go for dental care."